Magazine Recommends… His 'N' Hers
Perhaps it's a cliché to exclaim an underrated masterpiece or a 'best kept secret'.  But then perhaps also, it's a cliché to avoid clichés! Here at Magazine, we don't mind.  Bring on ya Hendrix and Endtroducing, it's all within a context anyway…
It's uncertain whether the album at hand fits into any scene, likely none currently.  While ostensibly part of the indie wave of early nineties, this is a fairly broad category - at a stab it could be some kind of camp neo-romantic lush-pop, or something like that.
Call us uncultured ignoramouses, but we are yet to hear anything remotely similar to this album. (An aside - why does that word always feel like it should have an 'n' at the end?  No one else? Maybe LPs recorded in the last quarter could be called Albumns?)  Back to the matter in hand - it's not as if this is some kind of off-the-wall unique wild sound.  It's just the kid in the playground with not many friends, really, but a cool af attitude anyway.  Which one would guess is the look Jarvis and his cohort were going for, or that kind of thing.
The great appeal of the album isn't a particular sound though, - its it's unbashed emotionalism. Soppy, almost gossipy, eyes pseudo angelically rolled to the heavens, tales of loss, love, lust and longing.
When I listen to this album I almost feel a sense of shame at the indulgence and whimsy.  It's not that it's light, rather it's fay, something that feels like a bedroom experience for a seventeen year old wondering and wanting the world, or at least a world.  Audio poppers for the sofa.
One feels the need to make a point here: some of the tracks on this album are Very Very Good™.  They're all good, not a dud in sight, (refer to first sentence above…) but seriously, yeah usual caveats of not-everyone's-cup-of-tea, probably very few people's. But somewhere in the Platonic universe there is a vaporwave-esque statue of the group.  They made it.  (it, not the statue - and yes - afficionados - they also made It, the dreamy ebullient first Pulp long player.)
The album was producer by Ed Buller, who could be described as something of a one man Radiophonic Workshop.  Not just taking the intitial recordings and mixing them, he transformed them via his collection of vintage analogue synthesisers.  A contribution that cannot be understated.
The effect as a whole is a delicous mélange of dreams, candy, sizzling atmosphere, strolls and skips, half-ajar doors, skulking around leaving parties, distant sunsets, close friends, urban greenery and somnolent x-stasy.
The creation of the Album was the apex of the transition from ardently followed cult greats to televisual mainstream popstars. Reflected in the geographical move from the band's home town Sheffield to The Big Smoke, here, London.  As such, it stands alone, both distant from the dark freaks 80's period, and from the later polished chart-busting class-smashing anthems.
Is this a lost album? Whose existence resides on occasional bookshelf in a cherished compact disc, only sustaining nostaglia for a passed youth? It's not for us to adjudicate on - you can address your opinion to our inbox, forcefully if required.
We say this an achievement par-excellence by the dour Doyle, the ambitious Mackey, the obscure Cocker, ethereal Senior and basically steel-worker Banks.
Listen to His 'N' Hers - it's the ultimate innocent guilty pleasure.


∞ Last edit/update on: 18 / 3 / 2023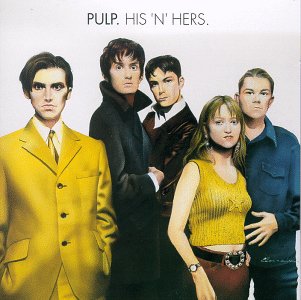 The album cover (src: wikipedia)