Magazine Recommends… Gabbeh
This time, we divert somewhat from albums to films made in the 90's.
I first came across this film in the early 2000's on late night T.V.
For years it was lost to me, just a wistful lost encounter, until by happenstance I found it again years later
A full feast, a journey, a mystery, a loss and a gain, this film is an obscure treasure - being mostly unknown outside the realm of what is known as world cinema.  A meditative piece that is at odds with the hyper-action of the typical cinematic experience.  Infused with the ultra-poetic spirit of Iran where it is set, it is an elergy and a song to love, travails, longing and tradition.  A tradition of crafts, animals, journeys; but also one that traps and confines, divides the lovers, and - once the break is made - creates a new parting of sorrow, the fleeing into shame and an ostracised existence.  This is the central romance of the film: the price of true love.
The gabbeh of the title is a rug, woven throughout, with the emblem, the motif, the two lovers eloping on horseback knitted into a sea of blue that could be sky, or land, or water.
One favourite scene is to witness a grown man dancing, singing, skipping about during marriage preparations. A rural, coarse and long distant innocence of sorts.
Don't watch this, unless you can meet its breadth and swathe. Leave it be if you are hardened and cynical. For the Gabbeh is a ghost in primary colours, a dream on celluloid, a departure and a stop.
---
If you ignore our dire warnings and persist, the dazzling mise-en-scène A Taste of Cherry and the puzzling A Moment of Innocence are both visual and dramatic spectacles to match, each with a mischevious turn, pushing at the notorious fourth wall with a carefree abandon.
All three films are out of copyright and available to watch online for free. Something to put the step into your Spring season 🙂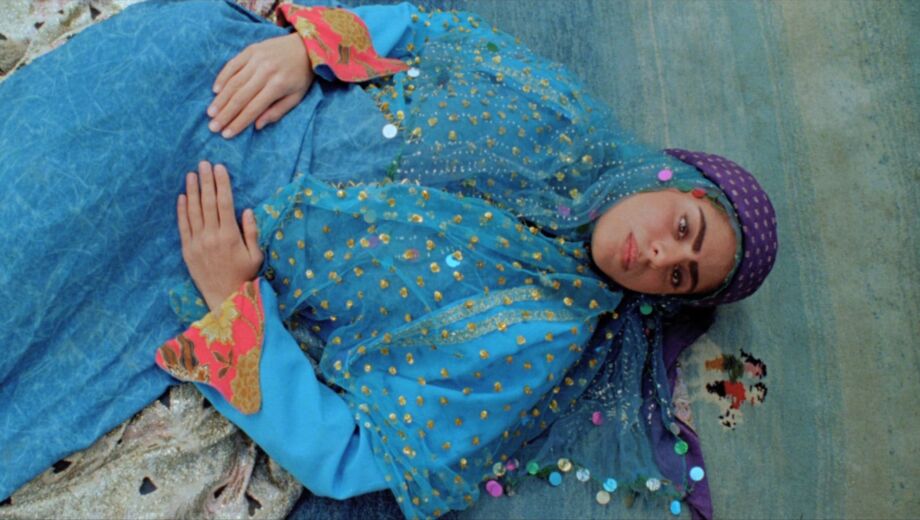 Lady on the rug (Gabbeh)